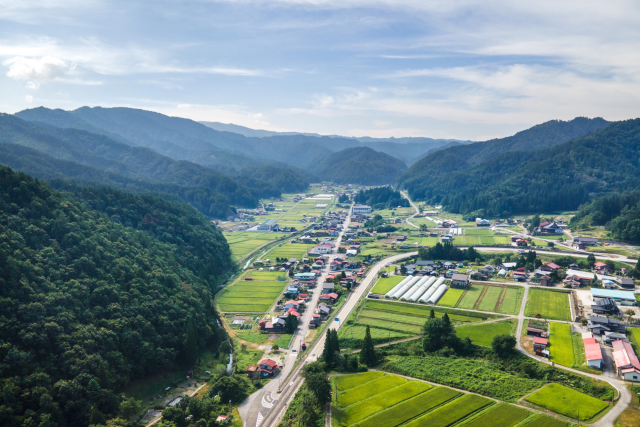 Hida City is a fairly large mountainous region in northern Gifu, with most of its attractions built up around two main areas: Hida Furukawa and Kamioka.
Hida Furukawa, the old town district in the city's center, is very easy to explore by foot, with all major attractions within a 10–15 minute walk of the main station. This is where most visitors to Hida will first arrive.
Kamioka is about a 30-minute drive to the north-east of Hida Furukawa. It's home to a number of attractions and local festivals.
For those looking to venture beyond the old town, bicycle tours are a popular way to see Hida's countryside.
Getting Around Hida City
Rental Bicycle
Cross bike rental is available at Hida Furukawa Festival Exhibition Hall. They provide rentals for 300 yen per hour, or 1,000 yen per day, with 4 Japanese-made bikes available (suitable. for city cycling, with bicycles for children also available). Hours: 9am–4pm (rental possible up until 3pm).
Guided Taxi Tour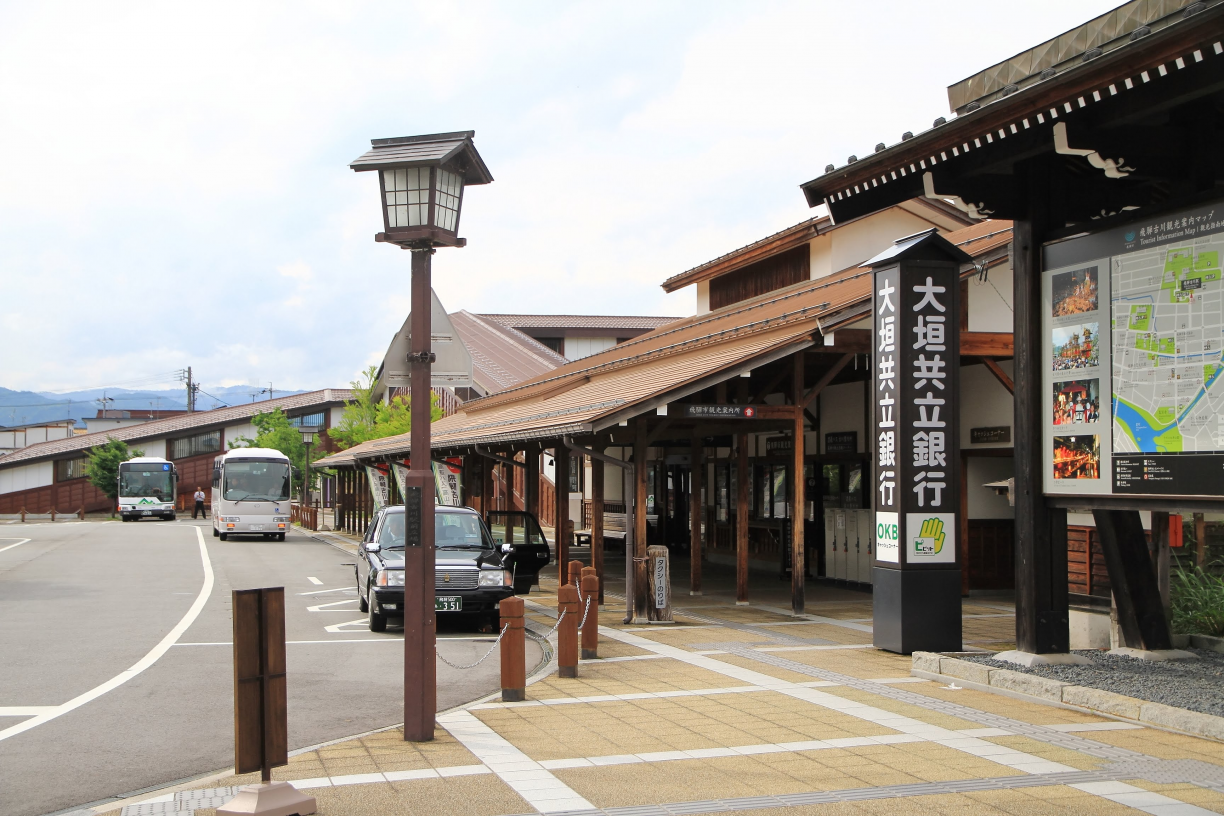 Medix Taxi (Miyagawa branch) provides a chartered taxi service for about 8,550 yen per 90 mins. English guidance is also available. See here for details.
Car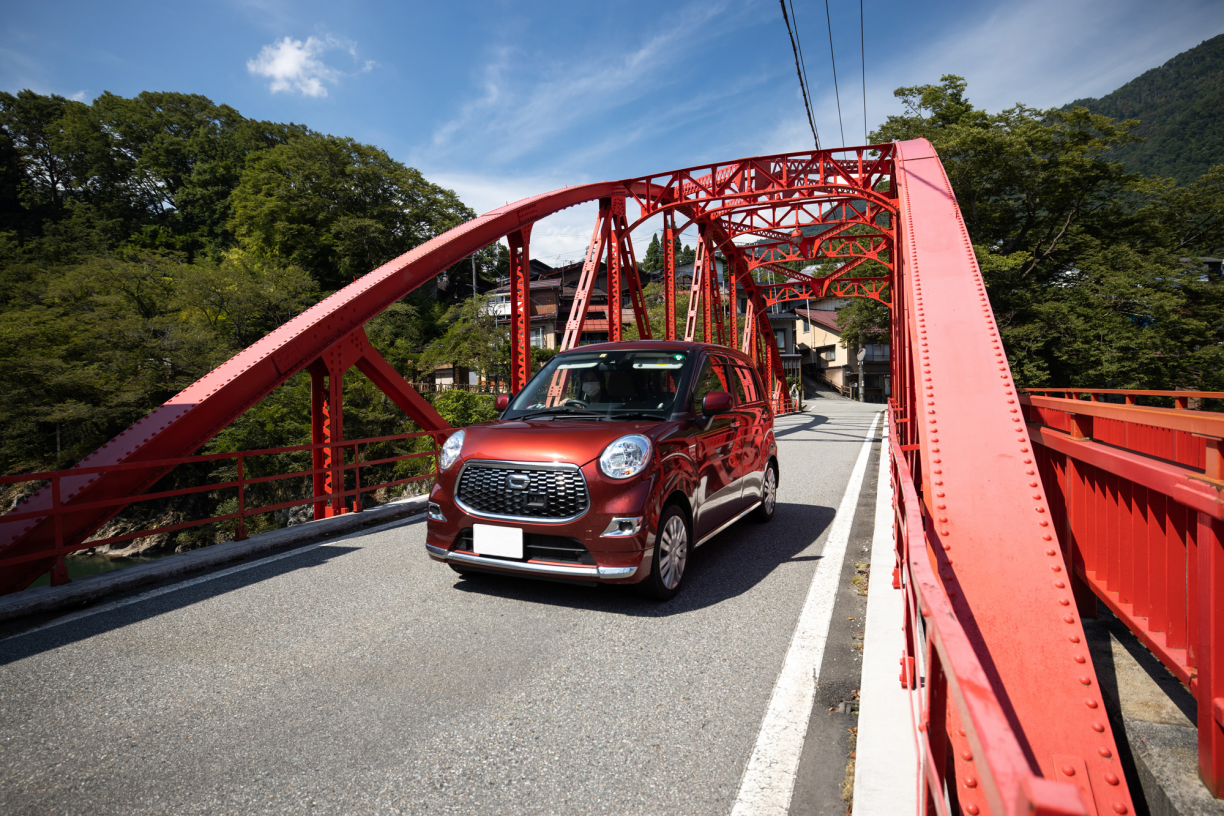 If you're heading towards the mountains for hiking or winter sports, a rental car is the way to go.
For convenience, it is much easier to rent a car at one of the many operators near Takayama Station (like NicoNico Rent A Car or Toyota Rental Car), before making the 25-min drive up to Hida:
| | |
| --- | --- |
| Service | NicoNico Rent A Car |
| Access | 3 mins walk from Takayama Station |
| Address | 4 Chome-111 Hanasatomachi, Takayama, Gifu 506-0026, Japan |
| Hours | 7am–7pm |
| Booking | Website / 0570-042-525 (enquiries) |
| | |
| --- | --- |
| Service | TOYOTA rental car Takayama ekimae |
| Access | 1 min walk from Takayama Station |
| Address | 5 Chome-20 Hanasatomachi, Takayama, Gifu 506-0026, Japan |
| Hours | 8am–7pm |
| Booking | Website / 0577-36-6110 (enquiries) |
Getting Around the Hida Region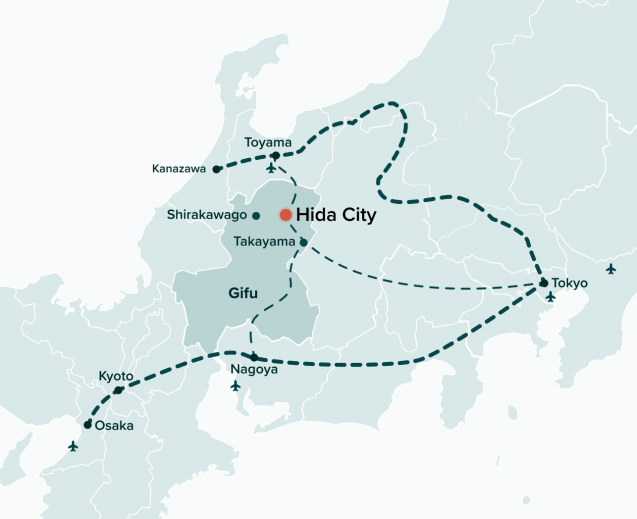 From Takayama to Hida
By train: 16 mins on JR Takayama Line (3 stops). One or two trains run every hour.
By car: it's a 25 min drive north from Takayama to reach Hida Furukawa, following National Route 41.
From Shirakawa-go to Hida
By bus & train: Both Hokutetsu or Nohi buses operate daily services between Shirakawa-go and Takayama, where you can then take the train to Hida Furukawa. The bus journey takes 50 minutes (see bus timetable) and costs 2,600 yen one-way (1,300 yen child) or 4,600 yen for a round-trip (2,300 yen child).
By car: it's a 55-minute drive to the east from Shirakawa-go to Hida Furukawa. This fastest route follows the Tōkai-Hokuriku Expressway (E41) before switching to prefectural road 90 [Google Map]. If avoiding tolls, you should take a longer 1.5 hr route which loops further south following roads 156, 158 then 90.